A few feedbacks from the Parents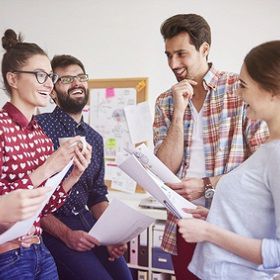 Our daughter learned a lot from her school years at Galilée. She received solid education and developed her taste for learning and discovered new subjects. Every test she took afterwards in order to enter new schools was extremely positive, which proves the quality of teaching at Galilée School. The Headmistress is very attentive to and approachable by the students and the parents, which ensures a more benevolent, serene and dynamic teaching environment. Motivated and inspiring teachers provide the students with a nurturing and positive academic environment.

Thanks to Galilée Bilingual School, our daughter developed a keen desire to learn English. She is able to maintain conversations of her age in English and watches movies in English with no difficulties, mostly thanks to the confidence her English teacher helped her build. On a more practical basis, I believe the program is very well designed, the core subjects (mathematics and French) are thoroughly addressed, and children also benefit from teaching in other subjects which open their minds to culture.
Parents of Laure-Emmanuelle, attending primary school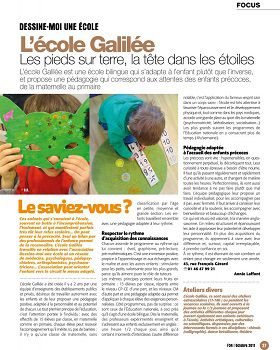 We are an American/British expat family in Paris.  I am so pleased to have found the right school for our six-year old twins. Galilee has provided a fun and positive environment for our children to learn French and study English as native speakers.  Our kids also enjoy many extra curriculum activities including field trips to museums, music and cookie-making.  I think the small class size and personalized approach to teaching has been very helpful.  I am impressed with the progress that our children have made since they have started at Galilee.
Josephine M., mother of children attend CP and CE1 grades
Besides having an outstanding academic level regarding teaching of the core subjects as well as English, Galilée school also shows great respect to its students' well-being and allows them to thrive and reach their full potential within the school. The small size of the class groups as well as the quality of the instruction are the indisputable assets of the school. Moreover, children are quickly exposed to bilinguism thanks to the numerous activities held in English.
Estelle T, mother of a child attending CE1 grade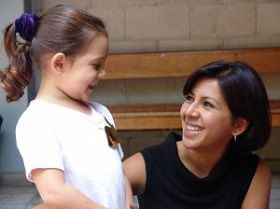 Good morning, we hope  you are well and that Galilée School is continuing its remarkable journey. We have amazing news regarding Gabriel as we approach the end of the year. The first year of Collège went very smoothly, and he finished the three school trimesters with distinctions and congratulations of the Board. He could not have achieved this without all your work. Once again, many thanks. Best regards,
Laurence et Christophe B.
I will always remember Galilée school in a very positive way. My children were able to thrive and enjoy learning thanks to inspiring teachers who always keep the children's best interest in mind. Thanks for everything !
Marie A, mother of children attending nursery and primary.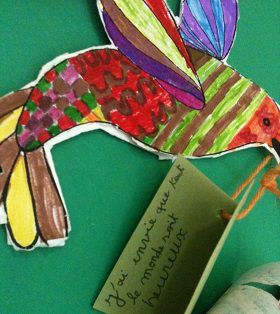 My son attended the maternelle section of Ecole Galilée for three years. When he started, he was a very shy child.With the help of the teachers and the other children, Ecole Galilée gave my son confidence and the motivation to attend school every day. Not only does he speak very positively of his teachers, he has also learned an impressive amount including reading, writing, and math skills. Ecole Galilée is both a nurturing and an appropriately rigorous bilingual academic environment. As a result, children learn how to treat others in addition to the independence, confidence, and applicable skills which help them adjust to the academic level required for primary school. As a mother, I have had nothing but favorable things to say about this school.
Mother of Tristan.
We were extremely satisfied with Galilée School and are so sorry to leave. We will enroll Philippe in a French school in London, so that he may continue to learn French and maintain his level in this language, which is very important to us.
Nathalie. T, mother of a child attending nursery.
To know more about the school