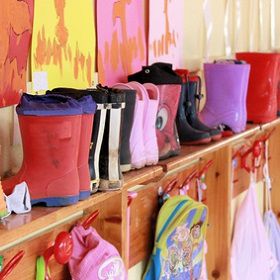 It is composed of three year groups: young, middle and older section (petite, moyenne et grande section).
All three kindergarten classes are fully bilingual to fully engage in this dual curriculum. Instruction is given 50% of the time in English and 50% of the time in French.
The program complies with the National Education Program. We accept children from the year they have turned two and start teaching them English in an entertaining way and on a daily basis.
The class size is limited to twenty students. We also give the possibility to be schooled only part-time until 5 years old.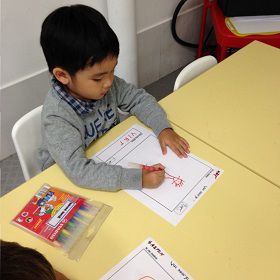 A quiet and organised environment in the Nursery class is conducive to better concentration and learning. This also applies to the daily timetable, which has been designed to adhere to the children's rhythm. Our educational method is based on alternate periods of intellectual concentration, and manual and artistic activities and times for playing and recess.
Teaching of basic skills as well as English lessons with a certified  teacher, are addressed during the morning. The students start learning reading (phonics method), writing and numeracy when he/she shows interest to it. During workshops, students are divided into groups according to their level. They take part in evolutive activities depending on their individual learning pace. Each child can therefore progress at his speed, whether fast (when it comes to gifted children for example) or within average.
They exchange with the children following the principles of Nonviolent Communication, a technique designed by the psychologist Marshall Rosenberg.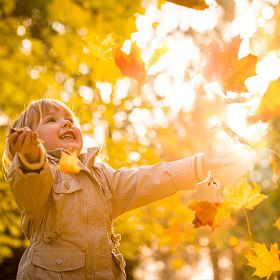 Children are allowed everyday in the Parc Sainte Périne during 1h30 after lunch,  thus answering their need for exercise, social interaction and contact with nature. If they wish and need so, regardless of their age, they may stay as well in the school for a nap. It is up to the school to adapt itself to the children's needs and abilities, and not the opposite. They can express themselves, be stimulated, play, grow, thrive and meet other children in a safe and respectful environment.
Afternoon time is dedicated to artistic awakening, opening their mind to the world and participating in free and creative games. Sport and Physical Education takes place on a daily basis and in English.
Class is organised in such a way to involve the children in installing and dismantling all of the material used in their activities, to make them feel more responsible and develop their autonomy at an early age. A wide variety of material is at their disposal for them to develop their acute motricity through the practice of specific gestures (tools for pouring, screwing, tying, buttoning, cutting...).
Learning English for the first year in Nursery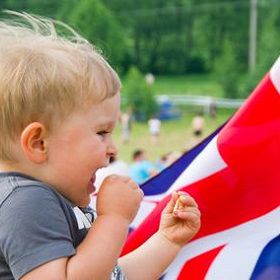 Our school strives to teach languages in an entertaining way from the first year of Nursery.
Nowadays, knowing a second foreign language is a basic skill, which is why all our teachers are native English speakers and talk only in English to the students.
Besides, learning a foreign language is important for a gifted child, since he develops his ability to "learn" when facing this new knowledge to acquire.
Sport is also  given in English and in French on a daily basis. We adopt an interactive learning system which uses daily life situations.
Learning another language is also about discovering a whole new world, a whole new way of learning, and opening your mind to another culture by getting to know its customs and traditions.
Students also take the Cambridge English Examination, where Galilée School has a record of a 100% success rate since 2010, from the Starters Level to the KET exam level.
Physical Education and Sports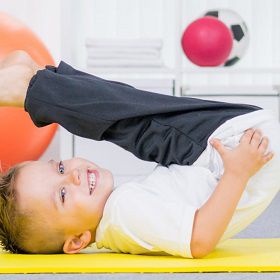 Students have three to four hours per week of Physical Education, depending on the cycles. Physical Education is given in English by a certified teacher dedicated to this subject within the School.
According to the official guidelines, Physical Education is aiming at improving the physical capacities, motor development and physiological fitness thanks to sport and artistic activities. It also allows the student to master its social and physical environment by improving social and motor development (ergomotricity). It contributes in a larger way to transforming the motor skills of the children. Physical Education provides an initiation to physical and sport activities but also to artistic activities. While addressing their need and will to exercise and play, it develops their sense of effort and perseverance. Children get to know themselves and the others better. They also learn how to keep fit and healthy.
Acting and expressing yourself with your body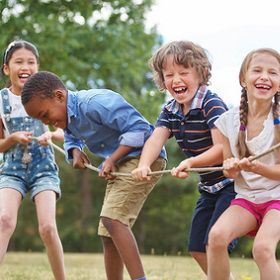 In Nursery school, physical activity and body experience participates to the child's motor, sensory, emotional and intellectual development by exploring, expressing, acting in a familiar and then, progressively, more uncommon environment.
The child experiments all the possibilities of his body; he learns to act safely while taking measured risks, and to put some efforts while adjusting his energy. He expresses how he feels, and names the activity performed and the apparatuses and objects handled. By practicing free or guided physical activities in various environments, the gifted children develop their motor skills: traveling (run, climb, jump, roll, slide), balance, handling (moving, pushing, pulling), and throws and catches.
By playing by the rules, they develop their capacity of adaptation and cooperation. They understand and acknowledge the usefulness and the constraints of collective work.
Artistic and expressive activities such as circle dances, dancing games, dance and mime allow the children to express themselves with mastery of the gesture and to develop their imagination.
To know more about the school